Current and upcoming performances

PR/NY will be performing Sunday, March 18th At The Taller Latino Americano/ The Latin American Workshop. PS 109 215 East 99th Street, New York Lower Level 212-665-9460
8PM as part of BLUES meets LATIN. An evening of Blues and Latin music.


PUERTO RICO/NEW YORK has performed throughout the New York area where Latin and Jazz music is performed. Some of the venues where PR/NY have performed are:

QUEENS:
Los Rancheros, Pacific World.

BRONX:
Chez Senual, Wild Palm and Mon Ami.

BROOKLYN:
200 5th Avenue, El Puente and Pedro's Kitchen.

NYACK,NEW YORK
Casa del Sol and Best Western.

NEW YORK CITY
Dharma, Potion Lounge, No Moore, Tonic, Nell's, Gonzalez Y Gonzalez, Creole, Bistro Latino,Tony's of Worth, Bonitos, Lava Gina, 3rd Street Music Settlement, Newyoricans Cafe, Julia DeBurgos, Camaradas, 108 Lounge, Orbit, La Marqueta and Vamos.


Keep your ears open for future performances.





PR/NY will be celebrating 20 years of LatinJazz. Be on the look out for up coming recording.

YENDORMUSIC would like to thank all of the people who have in one way or another have supported PUERTO RICO/NEW YORK. We thank you from the bottom of our hearts. The music and the good times which we have spent together are due to the responce we have gotten from the public. We will continue to produce quality shows in the future. Keep an eye out for PR/NY.

A Puerto Rico/New York performance is always an enjoyable event. Our dances are memorable and exciting. Come and be a part of the excitment. Puerto Rico/ New York guarantees that everyone will have a great time.Here are some of the people who have been part of the parties. PR/NY te invita a gozar.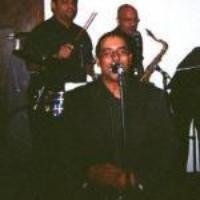 Angel Rodriguez Sings and Puerto Rico/New York Swings.

Angel Rodriguez lead vocalist with
PUERTO RICO/NEW YORK
sings at the 108 Lounge in New York.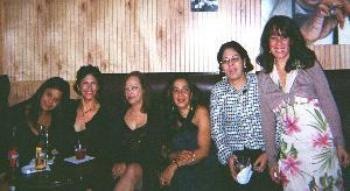 PR/NY will always attract lovely ladies enjoying an evening at the lounge.





You will always find Happy faces at the many PR/NY performances.







Bring your dancing shoes because all PR/NY performances are full of excitment which will keep you dancing up a storm.






Our guest are always having a good time.







Raymond Feliciano canta con SABOR.
When not singing with "La Nuyorquina"
Ramon can be seen with PR/NY at our
many functions.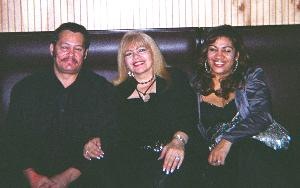 Wether you are a listener or a dancer you will always be enjoying an evening of great sounds.






Elliot, Riki and Steve on a break.